As of October 1, 2022, an additional authentication in XENTRY Diagnosis via smartphone app or USB security key is required. Otherwise, you will not be able to work!
Diagnosis Hardware
Correctly diagnose potential faults in your customers' vehicles right away thanks to our diagnostic solutions – and react with targeted repairs and maintenance. Sounds good, doesn't it? We think so, too.
1. XENTRY Diagnosis Kit (XScope optional)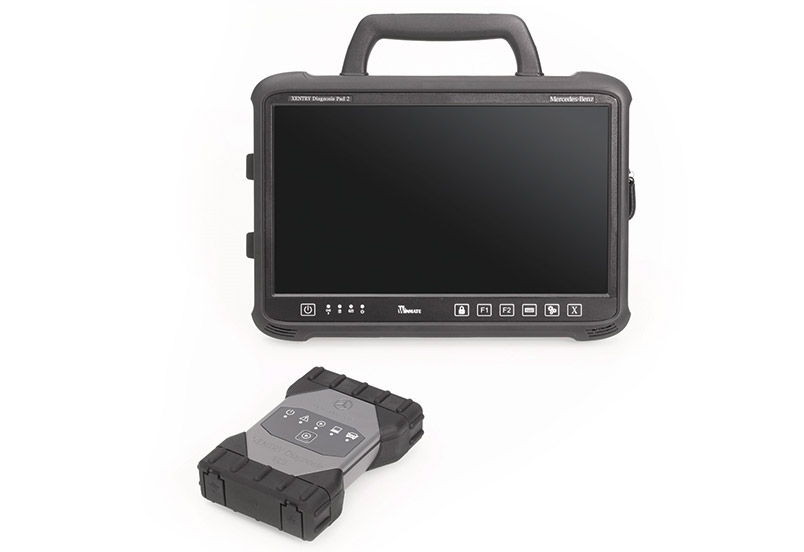 One kit for all model series: Test the fastest and most efficient diagnostics tool.
read more...

---

XENTRY Diagnosis Kit 4 - Components:

 

XENTRY Diagnosis Pad 2 (diagnostics computer) features pre-installed diagnosis software and operating tools
XENTRY Diagnosis VCI (multiplexer) serves as interface/translator between vehicle and diagnosis computer
OBD cable and USB cable

Functions:

Basic diagnostics functions, for example

 

Quick test
Actuation
Displays actual and target values
Guided troubleshooting

Further functionalities, including

 

Control module commissioning ("XENTRY Flash")
Reference to other applications, such as XENTRY TIPS, WIS, Operation Time

Your benefits at a glance:

 

Easier to use

 

13.3 inch, multitouch, full HD display with a brightness of 400 nits.
XENTRY Diagnosis Pad 2 comes with four USB type A 3.0 ports and one USB type C port.
Located on the front side are two buttons that you can configure individually using ConfigAssist.
To provide a more stable WiFi connection to XENTRY Diagnosis VCI, a second WiFi card has been installed, the WiFi stick in the XENTRY Diagnosis Pad 2 has been discontinued.

Much faster

 

XENTRY Diagnosis Pad 2 comes with the latest Intel® CoreTM i5 processor (1.6 GHz, turbo up to 3.9 GHz).
The main memory has 16 GB DDR4.
1 TB SSD hard drive (with 3000 MB/s read and write speed).

More convenient

 

The connection to XENTRY Diagnosis VCI is made using a permanently installed WLAN card.
XENTRY Diagnosis Pad 2 is passively cooled and therefore it does not have a fan.
XENTRY Diagnosis Pad 2 can be run on battery power for up to 8 hours.
---
2. XENTRY Accessories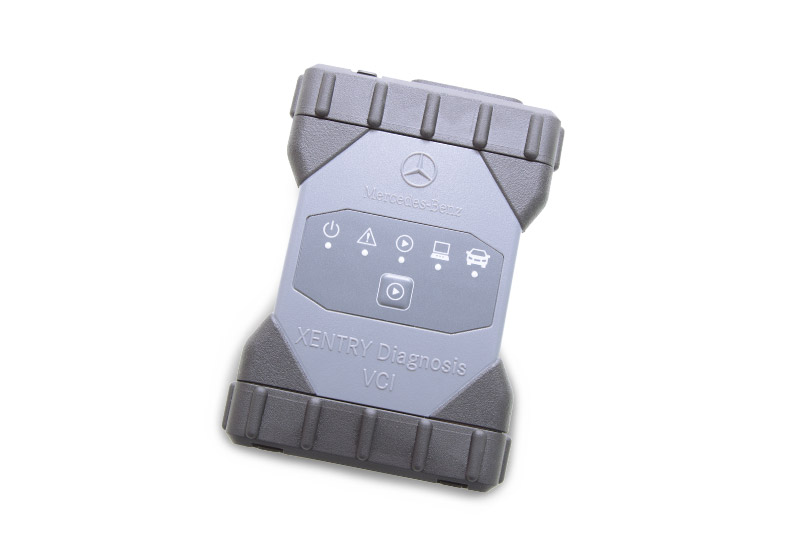 Additional options are available with uniquely developed accessories for XENTRY Diagnosis VCI, XENTRY Diagnosis Pad 2, and XENTRY Scope.
read more...

---

Accessories for XENTRY Diagnosis VCI (multiplexer)

The following accessories are available for XENTRY Diagnosis VCI:

 

OBD cable (16-pin)
A selection of adapters for different applications: 8-pin, 14-pin and 38-pin cable adapters
USB cable (5 m)

Accessories for the XENTRY Diagnosis Pad 2 (diagnostics computer)

The following accessories are available for the XENTRY Diagnosis Pad 2:

 

Power supply unit including power supply plug
Docking station
USB hub on-board electrical system charging cable (12 V /24 V)
Pad 2 pen

Accessories for XENTRY Scope (measurement technology)Xdentry Accessories

We offer you the following accessories for XENTRY Scope to systematically expand the possibilities of the new measurement technology for diagnosing engine and electronics:

 

NVH kit (noise, vibration and harshness) for noise and vibration measurements
100 A current clamp
2000 A current clamp
Pressure sensor (-916 mbar to +12.5 bar, high speed)
Temperature sensor – Measurement range of the probe from -40 °C to +125 °C
High-frequency testing and measuring range probe for use with higher voltage signals up to 500 volts
Lead for resistivity measurement (30 V)
Coil and signal sensor for testing ignition coils and solenoid valves
Secondary ignition sensor (capacitive sensor for measuring the secondary ignition voltage at the ignition wire)
Small parts set (clamps & adapters) for connecting the probes
Optical balancing set for help with balancing rotating components
---
3. XENTRY Update Service with Retail Data Storage +
Always up-to-date: To make the most of the XENTRY Update Service we advise to use the new Retail Data Storage + (network storage unit).
read more...

---

Using the familiar XENTRY Update Service, you automatically download release updates and the control unit software in the usual way to your Retail Data Storage+ and, if required, distribute the updates and software to the connected XENTRY Diagnosis Kit 3 | Kit 4 diagnostic systems.

 

Why Retail Data Storage + ?

The ever-growing quantity of data that digitization of future vehicle model series will bring, means a huge increase in the amount of memory required on the Retail Data Storage.

To cope with this, the new Retail Data Storage + has a powerful 18 TB hard drive. Thanks to the almost 5-fold increase in storage capacity compared to the predecessor model, the new Retail Data Storage + is therefore able to meet the future demands of increased data volume.

 

XENTRY Update Service without Retail Data Storage device

In the absence of a Retail Data Storage device, the XENTRY Update Service can be activated through the ConfigAssist.

When programming a control unit, the required software is accessed online and downloaded directly to your XENTRY diagnostics system. Diagnostics updates can be downloaded from the internet on demand during operation.

Please note that large data volumes may over-burden a lower bandwidth internet connection, resulting in reduced performance and increased waiting times.

In order to avoid operational delays and increased end customer waiting times we only recommend this approach for dealerships with a maximum of 2 XENTRY diagnostics systems.
---
4. XENTRY Flash
Perfectly designed for initial start-up, teach-in process and control unit programming ("flashing").
read more...

---

Multiple uses for your workshop

Whether for flashing, SCN/CVN coding or entering equipment codes: XENTRY Flash can be used with Mercedes-Benz Trucks. Conveniently, all processes are fully integrated within the diagnostics software (XENTRY Diagnosis, XENTRY DAS) requiring fewer manual intervention from your mechanics.

 

Automatic SCN coding and VeDoc reverse documentation

After the programming of the control unit, the SCN coding (if permitted by the control unit) as well as the reverse documentation run automatically in the VeDoc Vehicle Documentation System. Any changes made to the vehicle, or the control unit software are updated on the VeDoc vehicle data card.

 

Single sign-on for convenient working (Single-Sign-On)

Once you are logged into one of our workshop applications (for example XENTRY Flash, WIS etc.), no further sign-on to the central online systems is required, resulting in smooth workflows in your workshop.
---
Important information:
To be able to use XENTRY diagnosis software, you need to apply for additional diagnosis user rights. A distinction is made between two types of user rights:
XENTRY Standard Diagnosis right (for diagnosis users without XENTRY flash authorization, for example for reading fault memories)
XENTRY Flash user (corresponds to the current XENTRY Flash user)
Please use one of the following options:
XENTRY Standard Diagnosis right:
Every diagnosis user must independently request the Standard Diagnosis rights via UMAS and run through the one-off identification process. It may also be necessary for the market-specific ISP support to create the user in GEMS if they do not yet have a user ID.
XENTRY Flash rights:
User already has Flash rights:  

Every Flash user must independently go through the one-off identification process at   UMAS

User does not have Flash rights:  

User must request XENTRY Flash rights through the market-specific channel and go through the one-off identification process at   UMAS